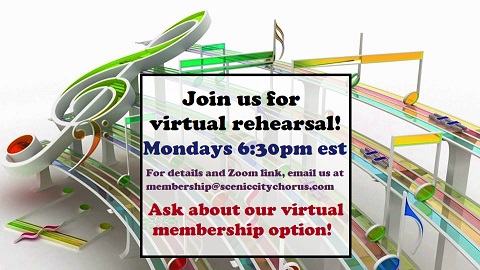 Hello Scenic City Chorus friends! While we are always thrilled to have guests attend our regular weekly chorus rehearsals on Monday nights, please note that our rehearsals have been temporarily moved to a virtual format. In light of the current COVID-19 threat, we are supporting the decision of social distancing for the foreseeable future. Please keep checking back to our webpage or Facebook page for status updates. If you are interested in attending a virtual rehearsal, please send an email to membership@sceniccitychorus.com and we will get back to you!
Click on the link below for information on our membership options - including Virtual Membership!
Stay healthy and safe! We look forward to singing with you in the future!